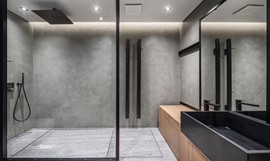 Top Bathroom Trends For 2020
Is 2020 the year for you to re-do your bathroom? Maybe you've spent the last few months thinking the tiles are a bit worn, looking longingly at more modern bathroom designs online or just fancy a bit of a style change? You're not alone! Typically, the best time to remodel your bathroom is in the colder, winter months, where costs are slightly lower and there is more room in the schedules of professional bathroom fitters. But then the big question comes – which look do you go for? And how do you decide?
When it comes to style and trends in the home, the bathroom is no exception. And with a new year come some exciting new trends in bathroom design, with updates in everything from colours and tiles to accessories and even layouts. So if you're stuck for ideas, or just want some inspiration, we wanted to share some of the top up-and-coming bathroom trends for the coming year. 
Brass Finishes
If you go for the 'traditional' bathroom fixtures, you will probably find a lot of silvers and chrome options. It's almost the default at this stage. But it doesn't have to be. Adding in some brass finishings, either polished, brushed or matte, is the perfect way to add a little luxury and a pop of colour to your bathroom. Brass fixtures like taps and radiators are becoming more and more popular statement piece for modern bathrooms, and it's easy to see why! 
Integrated Lighting
Lighting is a really important part in any bathroom design. The right light can turn a bright, harsh bathroom into a tranquil, spa-like sanctuary, perfect for relaxing and unwinding. after a hard day. With a bathroom remodel, you are able to craft the perfect lighting solutions for your space. Integrated lighting is a great way to create a statement space – from small spotlighting and uplights to behind-mirror illumination and even colour-changing options. There is something for everyone, and while it might seem like a small detail, the right lighting can make a big difference to the overall feel of your bathroom. 
Unusual Marble
Marble and marble-effect are always popular options for bathrooms, but for years we have seen people going for the same styles of marble over and over again – the classic patterns everyone recognises. But in 2020, statement marble is making a comeback, Rich, bold and unusual marble is a trend we're absolutely loving, and it gives you a chance to really show off your unique style. People are staying away from the usual Carrera and Calcutta Gold and are taking risks on unique materials such as Zebrino, Arabascato and Paonazzo, which are like art installations when done right! 
Monochrome
Monochrome has been a popular choice for bathrooms for a while, and it's not going anywhere in 2020! A good monochrome bathroom creates a harmony of simplicity, and classic elegance, and won't go out of date for years to come. It's also one of the most adaptable, flexible styles around, which means you can accessorise to suit any style and taste. Black and white go perfectly together in a bathroom, and you can achieve it by simple adding in some sleek new black taps or black radiators – small touches that can make a big impact!
Deep Soaking Tubs
Who doesn't love a good soak in the bath? When revamping their bathrooms, we are seeing a lot of clients opt for deeper tubs for the added luxury. A deep soaking bathtub will never go out of style, and are available in such a wide range of styles, shapes and colours (from traditional white to monochrome black), that you are guaranteed to find one you love. They can also, when planned carefully, give your bathroom a distinct 'art deco' vibe, or if you go for something like a claw-foot bath, a more traditional and old-fashioned feel. They're a very versatile type of tub, so it's worth considering!
Of course, your dream bathroom should be exactly that – yours. At Your Beautiful Kitchen, we specialise in creating bespoke bathrooms that match your habits, lifestyle and budget, every time. Our designers and fitters are on hand to listen to your vision and match it with products to bring it to life – before installing it all in your home for you. If you would like to know more, just visit our showroom or get in touch to book a consultation with one of our designers.