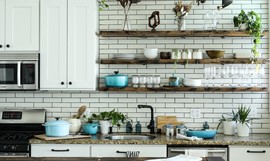 5 Top Design Tips For Your New Kitchen
How many times have you noticed that people tend to congregate in the kitchen? No matter how comfortable you make the rest of the house, guests and family head for the bright lights and tasty aromas of the hardest working spot in your home. If you have children, they probably work on their school projects in the kitchen and tell you about their day while sitting at the kitchen counter or inspecting the contents of the fridge. It's a truth of family life that seems to transcend cultural boundaries. The kitchen is the best part of a home, and preserving its warmth while updating its look, feel and function is one of the challenges of kitchen design.
At Your Beautiful Kitchen we love a challenge. So today our experts have gathered 5 of the biggest things you should think about when redesigning your kitchen, and why they matter.
Create Room To Work
Your kitchen is a high-traffic area, with a lot of things that need to happen for every meal. One of the biggest complaints we hear from customers looking for a new kitchen is that their old one hasn't got enough worktop space. Or more specifically, enough useable worktop space. After all, you want your worktops to be beautiful and decorative, but they also need to be functional too. So when we are designing your new kitchen, we will make sure you have enough worktop space by evaluating the space you currently use, and asking about your preferences and future plans to work out how much worktop space you actually need – which is often more than you think. The exact amount will depend on your circumstances, the size limitations of the room and your budget, but our experts are on hand with a lot of clever solutions to give you the space you need.
The Golden Triangle
In interior design there is something called the golden triangle, which is used to link the areas of a room that see the most activity. In a kitchen, this means linking the sink, oven and fridge. In an ideal world you have unobstructed access to all of these locations, from all of these locations, so that your kitchen is easy to use. Of the three, the sink usually sees the most action, and should have easy access to your fridge and oven, as well as your worktops. Narrow aisles, awkward swinging doors and islands that cut off access to these 3 areas are generally considered bad design, and will drive you mad very quickly.
Storage, Storage, Storage
The kitchen is probably the room in your house with the most 'stuff' – and it's usually big, bulky stuff too. And it's very easy to underestimate just how much space you need. The bad news is that if you have built-in kitchen cabinet doors with oddly shaped cabinets, you can end up with much less space than you actually need, and find that actually getting to the things you need is suddenly very difficult. Kitchen storage is prime real estate, and you need a good fitter with an eye for detail to design you a solution that makes the most of every inch. Kitchen storage that gives you easy access to the things you use every day, along with longer-term storage that is simple to reach and won't end with you accidentally breaking things is essential. So, while you're still planning your kitchen wish list, spend some time taking an inventory of your kitchen items, appliances and utensils, and think about how often you use them and where would be most convenient to keep them.
Light It Up
Any room in your house generally needs three types of lighting: general lighting (for overall illumination), task lighting (for specific tasks), and accent lighting (to highlight certain features in the room). A good kitchen will use lighting to ensure you can always see what you're doing, and that your kitchen looks it's best, with no deep shadows or dark patches. You can do this in a lot of different ways, from strip lighting and hanging lights to under counter fixtures and track lighting. Most kitchens will have enough general lighting, but will fall at the hurdle of task lighting, and sometimes ignore accent lighting completely. Task lighting should focus illumination on the prep areas, sinks and ovens at the very least, and should all be identified at the design phase. After all, the more light you have in a room, the more you can show off all that beautiful design work at the end!
Ventilation
If you've ever walked into someone's home and smelled last night's curry lingering on the sale air, you know the importance of good ventilation. Kitchen produce a lot of smells, and while they might be delicious at the time, the last thing you want is them hanging around, mixing with other smells and seeping into your furnishings permanently. This means you need to consider your ventilation system for the whole room carefully. As a bonus, a good ventilation system will also help keep your kitchen cleaner by venting out not only odours, but airborne grease particles that would otherwise land on your cabinets, counters, appliances and even travel to other rooms in the house. And let's face it, everyone would be happier with a little less cleaning!
Of course, there are a lot of other things you need to consider when planning your dream kitchen, but these 5 will get you off to a good start. And if you work with a professional kitchen design and fitter like us, all of this will come included in the service. At Your Beautiful Kitchen & Bathroom we specialise in creating bespoke, beautiful kitchens that not only reflect your personal style, but are easy to use at the same time. If you would like to know more, just visit our showroom or get in touch to book a consultation with one of our designers.